Holy crapballs on toast - I can't believe this is still happening. America was taken down not by a terrorist attack but by a bunch of dicks. Yep I said it. Chances are the few kids who were reading this blog have since forgotten that there's a blog here. I'm just not going to censor it any more. If you are a kid reading this blog, stop reading this post... like right now. I'm not holding my punches. Perhaps you could leave me a comment telling me I have a potty mouth or something... just so that I know.
And what a great time to decide not to censor the blog when there's such a legitimate use of the words "dicks" and "fucktards". And why is this happening? I'd be as bold as to say that this action is unlawful by the republicans. I mean seriously - a law is passed and they decide to throw their toys out of the cot because they don't agree with it.
And their reasons for their disagreement? No body knows! They keep saying things like "it'll be a disaster!" or "it'll bankrupt us!". Usually accompanied by a flailing of arms and terrible analogies.
Now a whole lot more people are now likely below the poverty line... that is, given that government employees are no longer being paid, the cost of medicare is, ironically, going up.
Freedom of religion?
Not a chance. Apparently it's unlawful to practise your religion if you're employed to do so by the US government BUT it's not unlawful to create a situation whereby practising your religion may become unlawful. What the fuck?!?! You seriously can't make this shit up.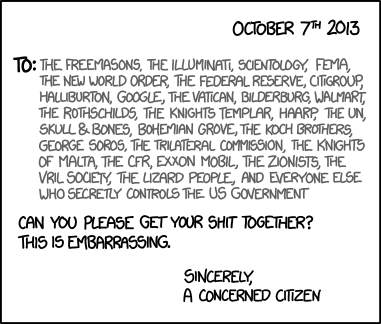 Oi! You bunch of republican fucktards! You are not going to go to hell in a hand basket by looking after your population. The rest of the developed world provides healthcare. Sure... the system has problems. But fuck it. The alternative is not doing anything to help people. Those people? The ones at the bottom? You step on them to get where you are. You do it on a daily basis. Would giving up a little bit of your over privileged life styles really kill you if it meant "goodwill to all men"?
Want to figure out how to afford shit? Stop spending so much money on your tanks and your bombs and your bombs and your guns (What's in your head?). What does this really buy you except for a whole lot of derision from the rest of the world?
Basically, get your shit together.