Museo is the new Comic Sans MS, except it's a much better font, quality-wise. And it comes from the awesome foundry Exljbris, which has made the world better with Diavlo and Fontin and Delicious, Calluna. But it's becoming terribly common...
Museo Museo Museo... for those who don't know, we will need to introduce you. Your face has become famous, I gather, but your name?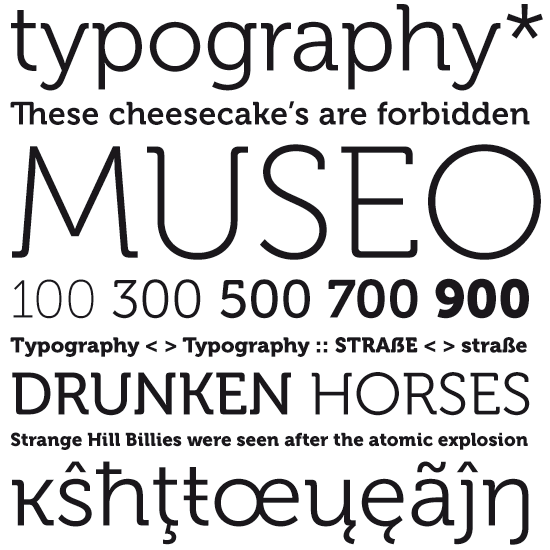 Are your memories freshened? Do you remember where you have seen it? Any Aucklanders in the ranks?
I overdosed on that font
Museo seemed to be the dominant, if not official, typeface at The Cloud. Even before I stepped inside, I was assaulted by that typeface of oldie years. "Finally", I thought, "the generic typeface was not made for children and misused since conception. Finally, it was forged by masters and wielded to perfection; before becoming common it was great, and it was born from love, not money."
But it still stands: the typeface is becoming common. And it shouldn't; no such font should. Why? Because it has
Character
. It is different from other generic fonts like, say,
Arial
or
Helvetica
,
Times New Roman
or
Georgia
. These are generic in their own right: they were quasi destined to become widespread. As such, they have ever-so-little uniqueness. The more type-aware of you will burst in a violent outcry at this: but before you do... yes — I know.「
softly
」 I know.
Museo is an incredible typeface. The uniqueness! The u! The u? Indeed... in most fonts and faces, it is the g which is most distinguished. Have a look:
Each font has its own character
Peer in closer and have a look at the lowercase Fertigo Pro...
But Museo... Museo! Museo has its U:
I smile just looking at this U. Like that: Ü hehehe. Beautiful fonts make me happy. But beautiful fonts are only beautiful if they are chosen to match, not chosen to flock.
So please: if you are choosing a font, look at the multiverses available to you. Subscribe to a typographic newsletter (the MyFonts one is quite accessible). Visit foundries. Attend workshops. Share the love for type.
Go forth and harvest kiwis

— uh, fonts!
And if you must, if that font is perfect for you, if that font in that context makes you smile and softly hum to yourself: use Museo.